US Postal Service to Issue New Stamp with Local Links | Business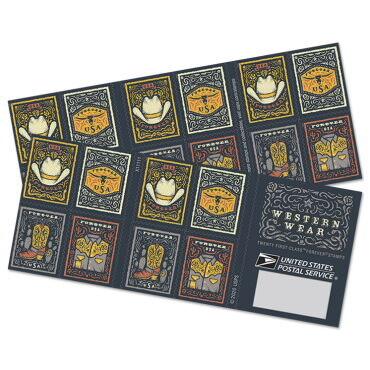 KAUFMAN COUNTY, Texas – The U.S. Postal Service is celebrating the enduring legacy of Western wear and tear with four new Forever stamps designed by Texas artist and Terrell High School alumnus Ryan Feerer, they announced this week.
"Inspired by the clothing and gear used by working ranchers and reimagined in fun and whimsical ways, the original art reflects the clothing and accessories of the West that compromise a unique American fashion style," the Postal Service said. .
Born and raised in Texas, Feerer graduated from Terrell High School in 2002 and went on to earn a BFA from Abilene Christian University and an MFA in design from the School of Visual Arts in New York.
Feerer says his time in New York City led him to this honorable project.
"After graduating from the Christian University of Abilene, I continued my studies at the School of Visual Arts in New York where I obtained my MFA in design. I had a lot of amazing teachers during my graduate studies who did a lot of important things in the art and design industry. One of them was Gail Anderson, who was the Creative Director for an agency specializing in artistic creation for Broadway shows and before that, the Senior Artistic Director of Rolling stone magazine, "said Feerer exclusively inForney.com.
"Gail was on the USPS board of directors along with several other professionals from all walks of life. The USPS hires art directors to find talent for every stamp release every year. One of the themes was Western Wear. Apparently I was on a designer / illustrator art director's shortlist to work on this project. Gail had recommended me for the project as well, and I think that's why I was offered I am very grateful to her and everything she taught me in graduate school and everything she has done for my career, "Feerer said.
As a designer and illustrator, Feerer fuses typography and illustration with a sense of humor for projects ranging from small local businesses to international campaigns. He has created work for various companies including Fossil, Ace Hotel, Etsy, Academy Sports + Outdoors, and Target. He likes to focus his work on making "the right things for the right people", creating unique and timeless designs.
Feerer jumped at the chance when he was approached by the USPS about the stamp project.
"When Greg Breeding offered to do a stamp book, I responded immediately. The idea of ​​working on something so huge and tiny was more than exciting to me. My grandfather was a postmaster. in a small town in New Mexico for over 23 years, so there was a level of pride and nostalgia that came with the opportunity, "Feerer says.
Feerer tells inForney.com that he was not lacking in inspiration when it came to creating the pieces.
"I was given the Western Wear theme and got into concept design. Each stamp had to feature a western garment, so I started making lists of items that I thought were essential. The cowboy hat, pearl snap button shirt, cowboy boots and belt buckle were obvious choices, so I chose it, "says Feerer.
"I wanted to do more than just create illustrations for the clothes and tried to incorporate as many things that represent the West. Western-inspired plants, animals, ornaments, the sun and other elements were used to frame the main illustration of the garment. I really wanted every stamp to be authentically Western, but I didn't want to be influenced by anything I saw, which is hard to do. I wanted them to be unique and special so that anyone who buys a book can see something new every time they study the stamp. All this to say that I tried not to draw inspiration from anything other than the theme itself and the experiences I had growing up in the West, "says Feerer.
In addition to his freelance work, Feerer runs a design studio called The Good Things with his good friend Chad Zellner. Feerer now lives in Abilene with his wife, two daughters, son and golden doodle, Crumbs, where he is an associate professor of design, director of the graphic design program, and designer in residence at the Christian University of Abilene.
"I had never created something so delicate and small. I instantly became obsessed with every detail. I tried to be strategic in the placement of each point and line of each line. I did so many variations of each timbre and I never got bored or frustrated, "Feerer says.
"Honestly, I loved every moment of the process, which took over 2.5 years from start to day one of publication."
The first day of broadcast will be in Abilene Texas on July 23. They can be pre-ordered here.