Local tech company E4D Technologies to be featured on Inside the Blueprint TV show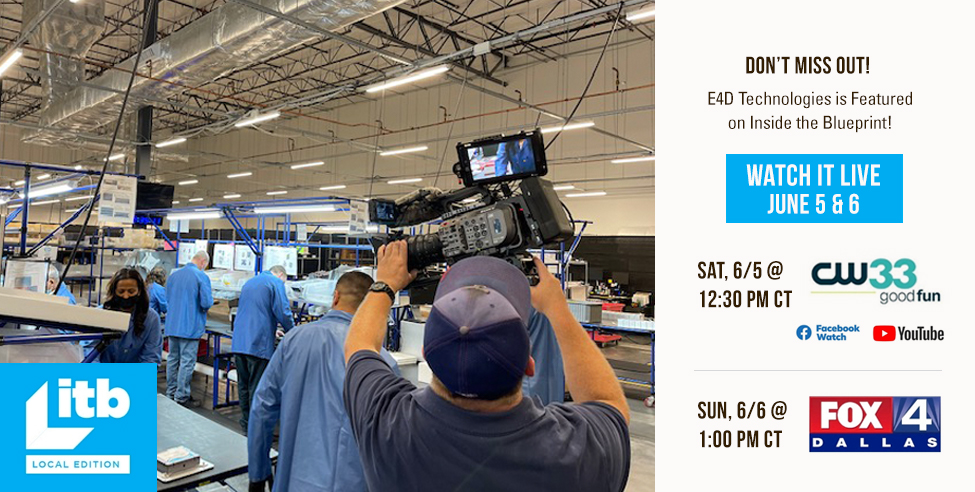 Technologies announced today that they will be featured on the Inside the Blueprint TV show. This step is a major step for E4D in its mission to create a positive impact through its products for its customers, employees and community. The episode of Inside the Blueprint with E4D will air Saturday, June 5 at 12:30 p.m. on CW33, Facebook Watch and Youtube. There will also be another broadcast on Fox4 Dallas on Sunday, June 6 at 1:00 p.m. ET. Join them for the live stream to celebrate the growth of E4D technologies and our community.
"Our entire team is honored to have the opportunity to share how we design and manufacture innovative products on Inside the Blueprint," said Tammi Carter, CEO of E4D Technologies. "We are focused on creating an organization for our customers, our employees and our community that creates more freedom to move forward. Never accepting the status quo for ourselves and our customers has brought us here today, and we're excited for what the future holds.
This news follows many recent initiatives and achievements of the company, including:
Partnership with several new customers to fight COVID-19 by manufacturing disinfection equipment
Move to a new facility in Richardson, TX
Refresh their brand message, design and logo
To watch the E4D Technologies feature on Inside the Blueprint live on Saturday June 5 at 12:30 p.m., Click here.
Contact:
E4D Technologies
Tammi Carter, CEO
Office: 972.534.3101 ext. 710
Cell: 972.792.1435
About E4D Technologies
E4D Technologies is best known for manufacturing technology in the dental and air purification industries. With specialties in 3D imaging, software engineering and laser technologies, they have designed, created and launched products that have revolutionized every industry they have touched. Now they are using their experience and involvement in the community to broaden their scope and make a difference in other areas of technology.