Digital Ocean (NYSE: DOCN) is not the cheapest stock in the technology sector, but as a cloud provider it can maintain solid growth for many years. The company is already generating free cash flow and, thanks to a timely fundraising, has $1.7 billion in liquidity which represents 23% of market capitalization. The strong profitability and large cash balance allowed the company to embark on a $300 million share buyback program – I expect that will be enough catalyst to unlock more potential. I expect DOCN to perform strongly in any rally in the tech sector, as the stock is expected to maintain a significant premium to its tech peers. I consider stocks a buy as the best pure cloud stock out there.
DOCN stock price
DOCN is up 12% since I last covered the company. There, I described the stock as offering a rare mix of high growth and positive free cash flow. The problem was that there was no immediate catalyst to send the stock higher. This changed with the announcement of a share buyback program. Management also issued long-term guidance which, together with the share buyback program, should provide the necessary ingredients for a sustained recovery.
DOCN remains more than 50% below all-time highs.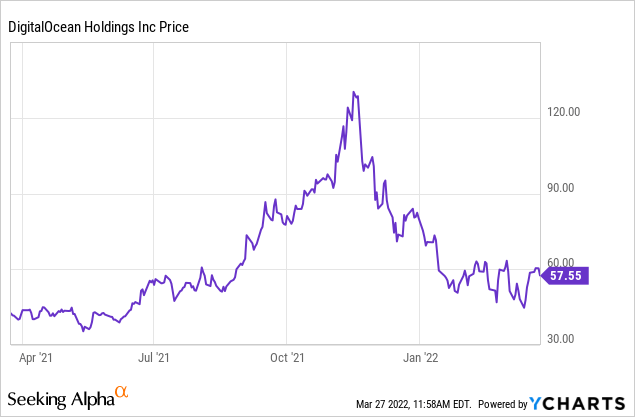 I don't necessarily anticipate a quick return to those highs, but the stock looks very attractive here with great visibility on future growth rates and solid free cash flow even now. This is a rare opportunity to invest for strong growth while immediately benefiting from free cash flow.
What is DigitalOcean?
DOCN is a cloud provider similar to Amazon Web Services (AMZN) or Microsoft Azure (MSFT). Cloud providers are the companies that make the internet possible. Every website is typically hosted in the cloud – as the internet grows, cloud providers are well positioned to benefit.
Obviously, DOCN may not be able to compete with AMZN or MSFT for larger customers. That's why they intentionally focused their efforts on small businesses. This narrower market is still quite large at $72 billion with an expected compound annual growth rate of 27% through 2025.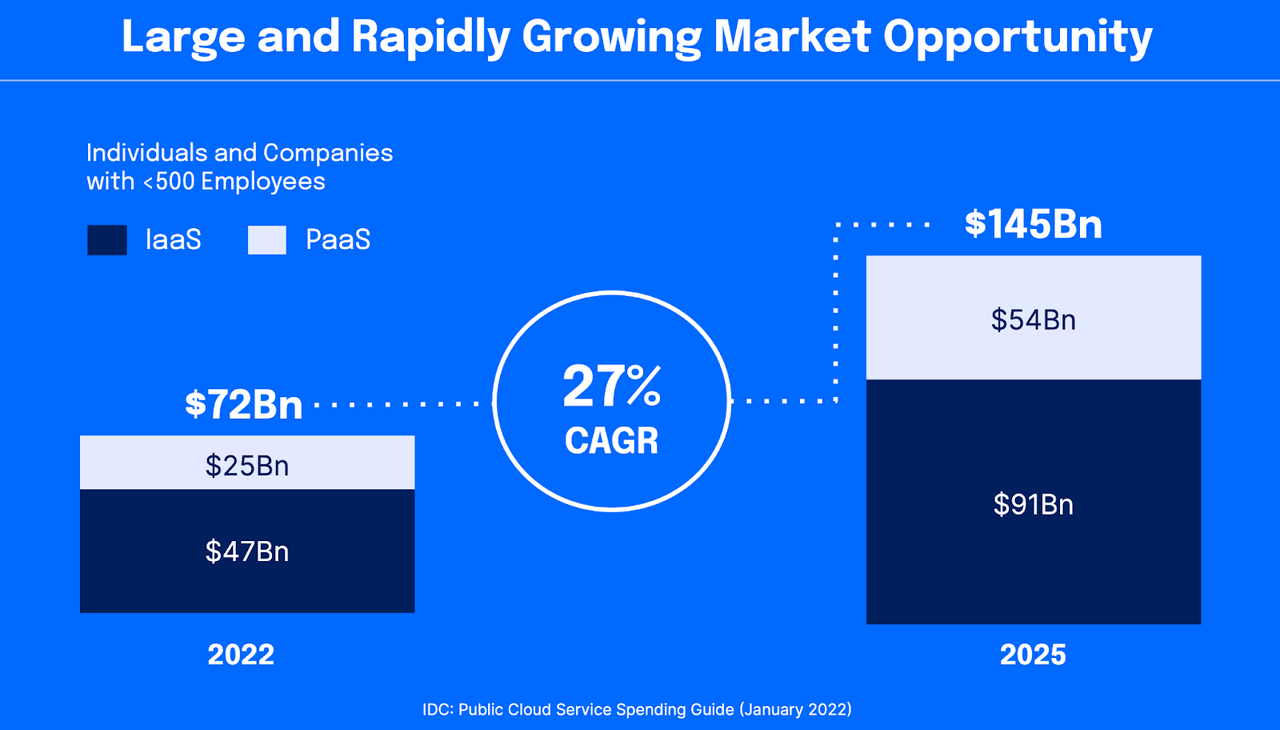 How is DOCN winning the small business market? The company focuses on simplicity. Most DOCN customers start using a self-integration process and are attracted by DOCN's competitive pricing, which can be 20% to 25% lower than AWS.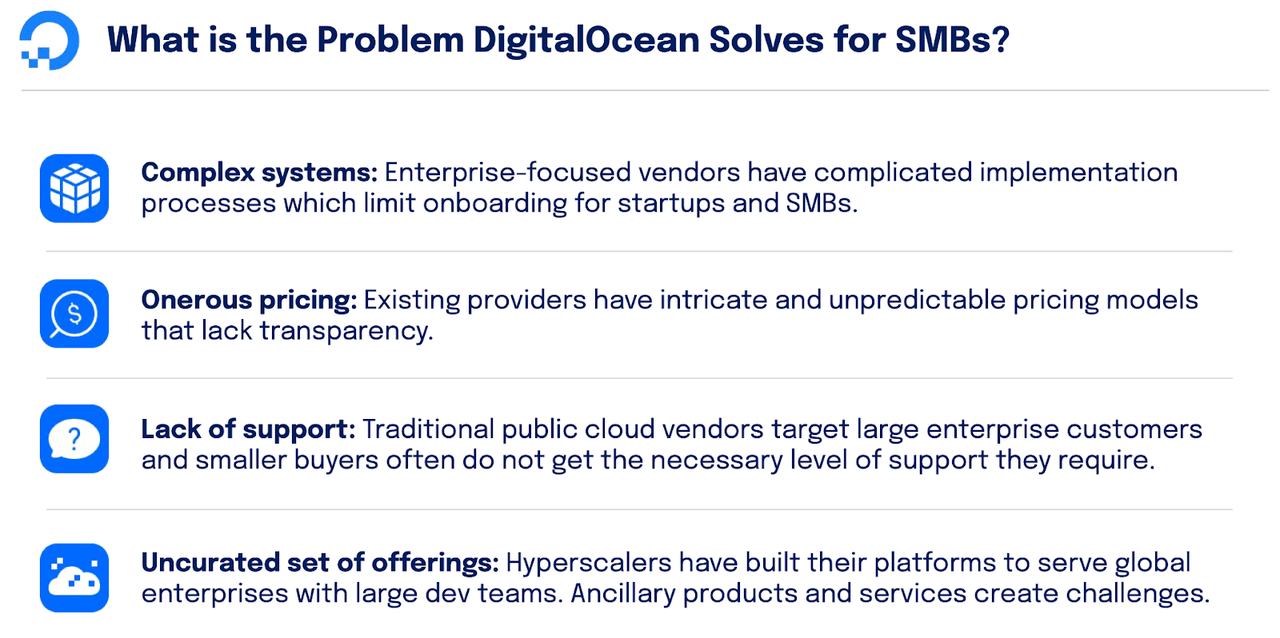 DOCN is by no means the best-in-class operator in the cloud space, but it competes quite effectively in the small business market and generates cash through its efficient sales model.
Benefit of DOCN actions
DOCN closed 2021 with 37% revenue growth in the fourth quarter. The company delivered a strong adjusted EBITDA margin of 31.7% for the full year.

Although DOCN saw total customer growth of only 6% in the last quarter, it was able to grow larger customers at a much faster rate of 24%.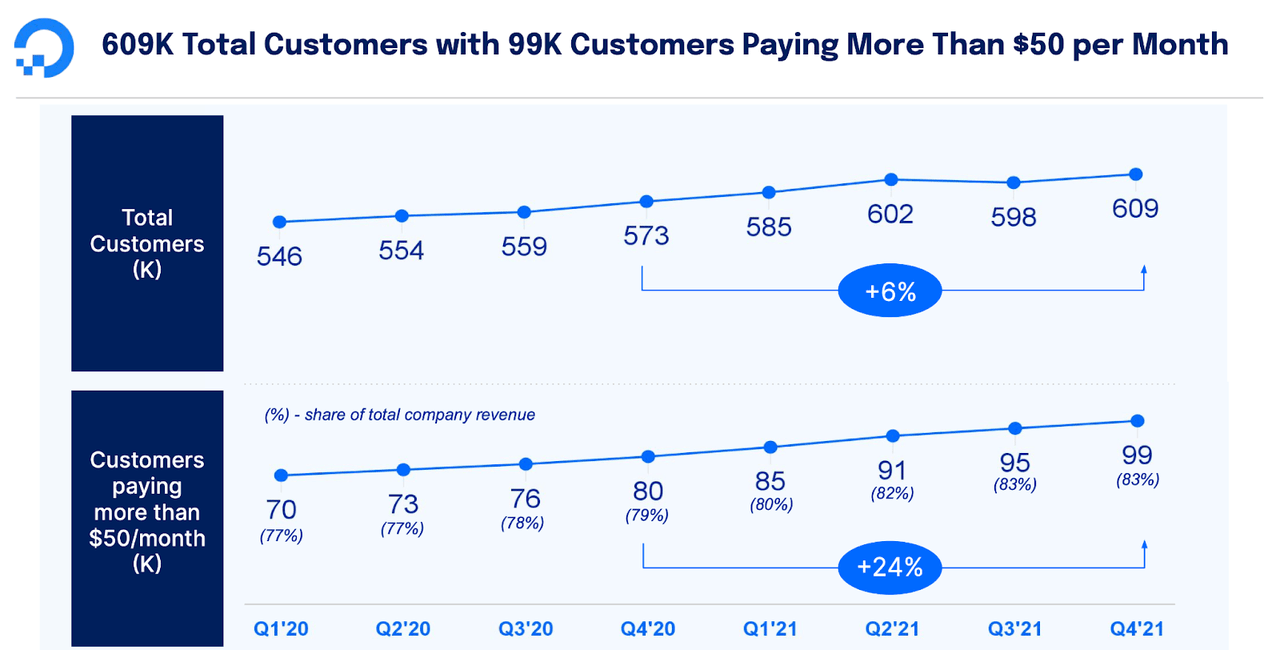 As noted on the conference call, DOCN expects total customer growth to improve to "high numbers" after going through some "bad actors" who fell from its platform. In the meantime, large customers are driving the bulk of the company's growth.
Below we can see what the typical customer lifecycle looks like at DOCN. They may start with less than $1 in monthly expenses, but as they grow, their business with DOCN also grows rapidly.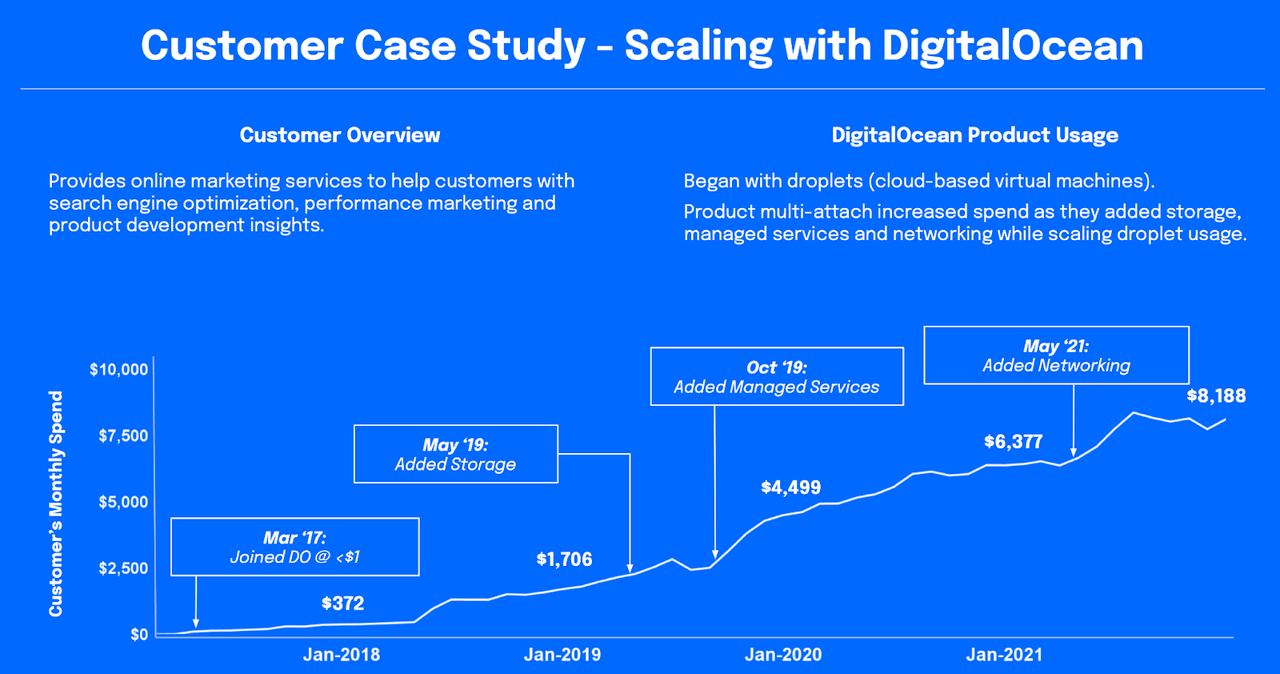 DOCN saw a strong improvement in the net dollar retention rate which stood at 116% in the last quarter.

DOCN forecast next year revenue growth of around 32% with another year of strong free cash flow margins.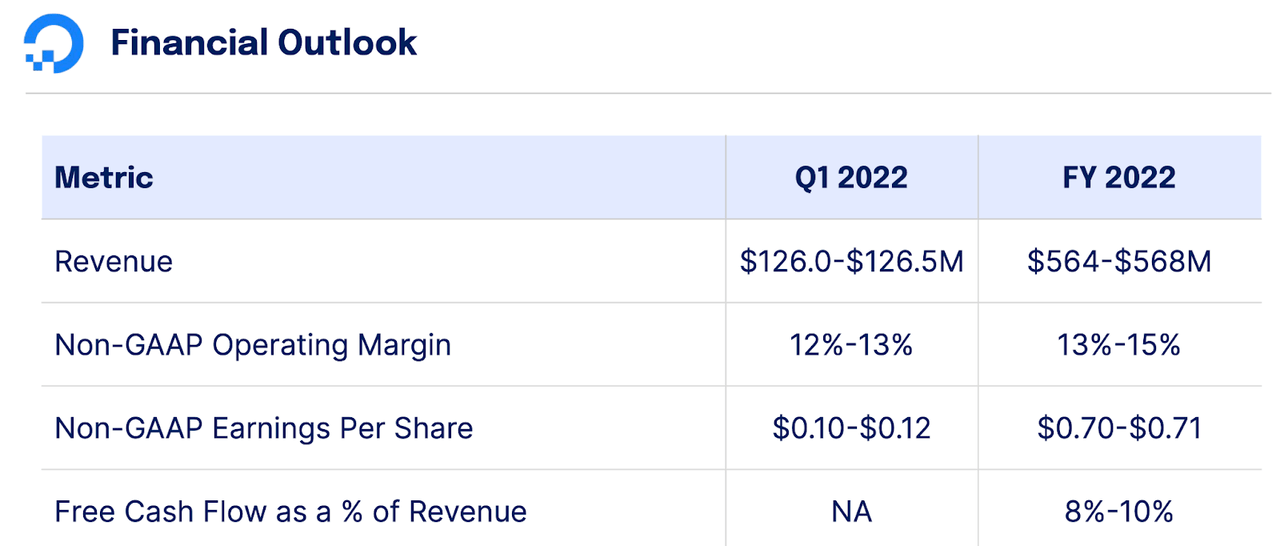 These results are in line with what the company has already achieved in the past. The big news was that DOCN authorized a $300 million share buyback program to help offset continued stock dilution. This share buyback program makes sense given that the company is generating cash while generating solid growth. I note that the company had over $1.7 billion in cash on its balance sheet last quarter, which is over 22% of current market capitalization. The large cash balance is due to a timely fundraising of convertible notes in November which bears an interest rate of 0% and a conversion price of $178.51 per share. These notes effectively generate 0% debt over the next 4 years, which gives the company significant financial flexibility. Like many tech stocks these days, DOCN trades at very reasonable valuations with plenty of cash on its balance sheet. Unlike many tech stocks, DOCN has the financial ability to directly benefit from low stock prices through its stock buyback program.
Is DOCN stock a buy, sell or hold?
At first glance, DOCN might not seem so cheap with its shares trading at 86x forward earnings and 32x 2024e earnings.

The key to the thesis is the company's ability to sustain growth of at least 30% for many, many years. The company has hit $1 billion in revenue by 2024 (with free cash flow margins of 20% by then) and consensus estimates call for $980 million in revenue by then.

The company has stated its long-term goal of 40% revenue growth and 20% free cash flow margin in the short term, with growth of 30% or more in the long term. This type of growth profile makes the company look pretty cheap after just a few years, even if it doesn't look overtly cheap right now.
I guess the company can hit 30% net margins long term, which is probably too conservative. Applying a 1.5x price-to-earnings growth ratio ("PEG ratio"), DOCN could trade at 14x sales in 2025, representing a stock price of $162 per share. This suggests an upside potential of 30% annualized over the next 4 years. I note that I did not place any value on the potential for aggressive stock buybacks during this period.
As we can see below, CEO Spruill and co-founders Benya Uretsky and Moisey Uretsky all have significant stakes in the company.

Significant insider participation can be a positive factor as it shows that management can be incentivized to generate long-term shareholder value. This stock has all the ingredients that could trigger a rally: strong long-term growth expectations, strong free cash flow, stock buybacks and strong insider participation.
The main risk here is that DOCN is not as high quality as the tech titans. It remains to be seen whether DOCN will lose customers to tech titans as its customers grow ever larger – the loss of one of its big customers could cause substantial volatility in its finances. For now, I believe in its low-cost, simplicity-focused platform, but investors should beware of any high churn. This can signal problems with the product and call into question the legitimacy of the bullish thesis, which relies on strong long-term growth rates.
I rate the stock as a buy as the combination of strong growth and strong free cash flow margins should allow the stock to maintain a premium multiple as the tech sector eventually rallies.